Scout Programs at Rancocas Nature Center



Download the Boy Scout and Girl Scout brochures below.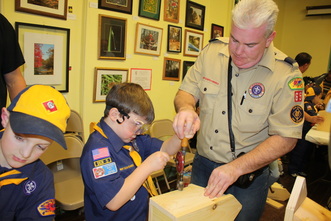 Rancocas Nature Center offers a variety of environmental education programs tailored to meet Boy Scout Program and Girl Scout Program activity requirements. Knowledgeable Center staff and associate naturalists offer hands-on experiences that give scouts an opportunity to earn badges by learning about different components of the natural world. Diverse age-appropriate programming allows Tiger Cubs and Daisies to move on to Wolf Cubs, Bear Cubs, Webelos, and Brownies and Juniors. Download a Rancocas brochure (see above) for additional details.
Planning Your Visit
Tiger Cubs and Daisies
....$80 for the first 10 scouts; $8 for each additional scout or sibling.
Wolf Cubs, Bear Cubs, Webelos, Brownies, and Juniors
....$90 for the first 10 scouts; $9 for each additional scout or sibling.
A $40 non-refundable deposit is required 30 days before the program. Payment of any remaining balance is due upon arrival on the day of your program.
Programs are 90 minutes for Tiger Cubs and Daisies, and 2 hours for Bears, Wolves, and Webelos and Brownies and Juniors.
To schedule a visit, call (609) 261-2495 or email
info@rancocasnaturecenter.org
. To facilitate scheduling please have several possible dates and times in mind. Spring and Autumn dates fill up quickly so be sure to make your reservations early.
Many programs are taught outside, rain or shine, so please dress appropriately. The instructor(s) will contact you a week in advance with specific program details.
Note: We do not purchase or provide the actual badges or other scout accessories. This is the responsibility of the group leader.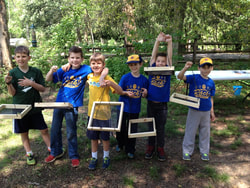 Results of another successful scout program held at the Rancocas Nature Center - "Tools for Fixing and Building," Achievement #5. Members of Cub Scout Pack #72 built platform bird feeders as part of their badge. They did a great job and the picture shows how proud they are of their projects.
Boy Scout ProgramsTiger Cubs

Tiger Adventure: Backyard Jungle

Tiger Adventure: Tigers in the Wild

Wolf Cubs

Wolf Elective Adventure: Grow Something

Wolf Adventure: Paws on the Path

Bear Cubs

Bear Adventure: Fur, Feathers, & Ferns

Webelos

Into the Woods

Earth Rocks!

Into the Wild

Webelos Walkabout

Boy Scout Merit Badges

If your group is interested in completing a merit badge, contact the Nature Center to discuss availability, programs, and fees. Rancocas will begin offering Merit Badge Days starting in Spring 2016. Call 609-261-2495 and speak with a staff person for additional information.

Eagle Scout Projects

We're proud to have fostered successful Eagle Scout projects at Rancocas Nature Center. If you are looking for projects for your Gold, Silver, or Eagle Awards, we have many to choose from. Please inquire with our Sanctuary Director at least six months prior to a scout's 18th birthday. Scouts are welcome to suggest a project, or they can select one from a projects list.

Girl Scout Programs

BADGES

Daisy:
Clover

Use Resources Wisely


Brownie:
Bugs

Senses

Hiker


Junior:
Flowers

Animal Habitats


Geocacher


All Scouts:
It's Your Planet - Love It! Journey

We can also customize a field trip on the nature topic of your choice!