One year ago YOU rescued Rancocas Nature Center.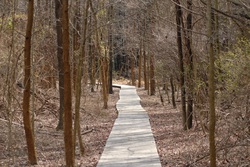 Do you remember just a short year ago when the Rancocas Nature Center was nearly closed? Your commitment and generosity not only saved RNC, but resulted in a successful year of programs and community activities. However, the real work is just beginning. We hope to maintain our momentum and develop the Center to its full potential. This letter provides an update, shares our future vision, and asks for your continued support.
We are on the trail now – but are not out of the woods. RNC needs your tax-deductible donation today.
To keep the Center open and viable, a support system was needed to steward the surrounding preserve with its historical buildings and provide outreach to the community. A very unique partnership was forged that included the Division of Parks & Forestry State of New Jersey, the Burlington County Board of Chosen Freeholders, Westampton Township, the Rancocas Conservancy, and the Friends of the Rancocas Nature Center. This partnership is focused on maintaining RNC and creating a sustainable plan for its future.
The primary role of the Friends is to generate the interest and funding needed to operate the Center. Your support empowered us to keep the valued employees and volunteers engaged in their important work.
Accomplishments in 2013 included:
Maintained free access to the preserve and its trails
Continued programs and summer camp focused on natural science and the environment
Expanded membership through new events -- RNC Garden Day and Rancocas Park Day
Incorporated the Friends organization and established a Board of Trustees
Progressed the federal non-profit 501(c)3 application
Partnered with the Rancocas Conservancy as our transitional nonprofit organization
Explored partnerships with local business, educational institutions and other nonprofits
Our vision is to:
Expand environmental education and recreation opportunities
Research early stewards of Rancocas – Lenape, free African Americans, Quakers
Link this rich cultural history with the lives of the people who value the Center today
Ensure that RNC, our unique local treasure, is there for those who follow us
Your continued support is essential for the RNC to survive and thrive. Please help by donating today!
Two ways to donate:
---
| | |
| --- | --- |
| Donate online by clicking the button below. | Donate via mail by downloading, printing, and returning the following form: |

Thank you for rescuing the Rancocas Nature Center. Please contact us with any suggestions, comments, questions, or concerns.

For the Rancocas Nature Center,

Toni Price & Rich Chichester
Co-Chairs, Friends of the Rancocas Nature Center

P. S. - Your tax-deductible contributions are one of the most important ways we have to support all that the Center offers. Every donation is deeply appreciated. Thank you for helping today!