Friends of the Rancocas Nature Center
Marker 1 - Yellow Trail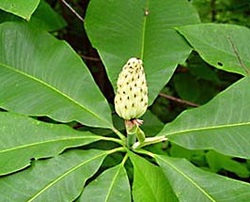 Close to this post, next to the main building, you will find an Umbrella Magnolia tree (Magnolia tripetala). Its scientific name means "three petals" in Latin, referencing the flower pattern created by its blossoms. In some regions, the magnolia is called Elkwood because the branches look like moose (or elk) antlers.

The Umbrella Magnolia tree is typically found in the southeastern United States, but this tree may have been planted here as an ornamental. Its leaf structure is unique─ look at the tree up close and you will see the upside-down umbrella shape of its leaves.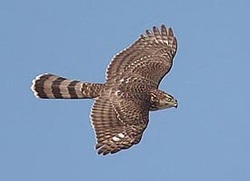 Trees aren't the only exciting species in the area. This particular part of the forest has been known to be a breeding area for Cooper's Hawks. These commonly found birds are some of the world's most skilled fliers, diving toward their prey of smaller birds. Keep an eye out for these birds year round, especially during warm temperatures!