Two ways to donate:

Donate via mail by downloading, printing, and returning the following form:

Donate online by clicking the button below.
February, 2017





Dear Rancocas Nature Center Supporter

,

Join us in celebrating another successful year! For the second year in a row the Rancocas Nature Center was voted "One of the Best Local Tourist Destinations for 2016" by the Burlington County Times readers. Your contributions allow us to offer environmental education programming (many programs are free of charge) and to provide stewardship of the preserve's diverse habitats, while engaging the community in the natural world. We need and appreciate your tax-deductible contribution to support our current activities and to respond to fundraising challenges we may face in the future.

Through the generous contributions of our supporters, we are able to offer:
- Natural history public programming for children, families, and adults
- Seven weeks of fun, hands-on environmental science Summer Day Camps
- Year-round interpretive trail hikes in the preserve and adjoining Rancocas State Park (including L.L. Bean guided activities)
- Off-sight field trips led by experienced, knowledgeable associate naturalists
- Chartered bus trips to seasonal events and nature-related locations
- Arbor Day and Star Watch community activities and an end of summer Music and Craft Festival
- Well-maintained wildlife-friendly gardens (assisted by the Burlington County Master Gardeners)
- Programs throughout the year that highlight the historic and environmental connections among local wildlife, the free African American settlement of Timbuctoo, the area's Native American culture, agricultural history, and the Quaker influence
- Sponsorship of the RNC Outdoor Photography Club, the Rancocas Nature Center Chapter of the Native Plant Society of NJ, and the RNC Nature Book Club
- Environmental education for public and private schools, scouts, libraries, and other organizations

In May 2015 the Friends group achieved an important goal, receiving 501(c)(3) federal nonprofit status from the IRS. This means that your end-of-year donation and support of the Center is tax deductible. Be sure to check with your employer (or former employer if you are retired) to see if they will match your donation.

You can help sustain the Center in one of the following ways.
~ Download the Rancocas Nature Center "Gift Form" at the top of this page and mail it with your donation to the Rancocas Nature Center at
794 Rancocas Rd., Westampton, NJ 08060
~ Donate online by clicking on the "Donate" Button at the top of this page and maker your donation.
~ Donate in person by coming to the Center.

Thank you for being a valuable partner of the Center.


Sincerely,
Toni Price and Rich Chichester


Co-Chairs of Friends of the Rancocas Nature Center



The Friends of the Rancocas Nature Center (FRNC) serves as the supporting non-profit financial arm
of the Rancocas Nature Center, federal 501(c)(3) nonprofit ID number 46-2470627.

www.rancocasnaturecenter.org
info@rancocasnaturecenter.org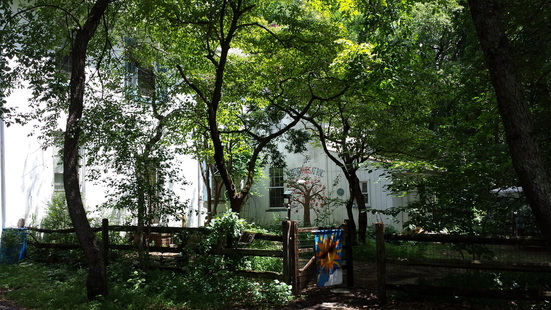 ---
Employer Matching of Your Donation
When you make a donation to the Rancocas Nature Center be sure to check with your employer, or if retired your former employer, to see if they will match your donation. The Friends of Rancocas Nature Center has Federal non profit status as a 501(c)(3) organization, a key criterion for matching. Employers may match some or all of the dollar amount of a donation, or in some cases will provide a donation based on volunteer hours of a current or retired employee.