Rancocas Nature Center Trail System
Marker #10 - Blue Trail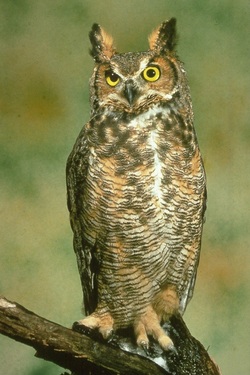 The pine forest is the ideal habitat for Great Horned Owls. These nocturnal predators roost during the day near the tops of trees, close to the trunk, so be on the lookout for large shadowy figures in the treetops. Evidence of owls such as whitewash and pellets have been found deeper in the rows of pine. These mottled gray-brown predators are recognizable by the prominent feathered tuft on their head. Their call is a series of loud, deep hoots.
---