Rancocas Nature Center Trail System
Marker #15 - Blue Trail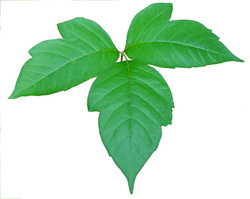 Can you spot the hairy vine on the east side of the trail? Look, but don't touch! Poison Ivy is a plant whose berries provide food for the local animals, but every part of the plant contains a poisonous oil (urushiol) that causes distress to humans in all seasons. Learn to identify this common plant and you can avoid the itchy rash it causes in most people when they come into contact with it. During the spring, summer, and fall seasons, look for its "leaves of three" arrangement. The leaf edge can be smooth or wavy, but never toothed and the leaf color can vary from green to yellow, red, and brown depending on the season. You might miss its very small green flowers, but its gray or whitish fruit grows in recognizable clusters. Poison Ivy is a deciduous plant, so it drops its leaves in winter, and the only sign of the plant you will see is its hairy vine.
---