Rancocas Nature Center Trail System
Marker #16 - Blue Trail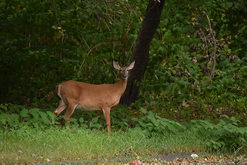 A deer run shows the route our largest mammals take from the forest to both meadows. As an edge species, deer especially like areas such as this one, which offers open grassy areas for grazing, with nearby forests for cover. Rancocas' understory has been negatively impacted by deer browsing, though the issue remains unresolved.
---