Rancocas Nature Center Trail System
Marker #17 - Orange Trail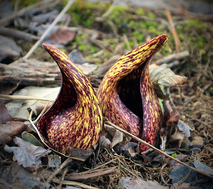 This wetland is part of the 80-acre Natural Management Area maintained by the Rancocas Nature Center. On the banks, Skunk Cabbage pokes through as the first sign of spring. The plant gets its name from the skunk-like odor you can smell if you crush a small piece of its leaf. When the Skunk Cabbage is fully bloomed, its large green leaves are an indicator of wetlands. The Rancocas Creek marsh is an important habitat for a variety of plants and animals, including Wild Rice.
---