Rancocas Nature Center Trail System
Marker #19 - Orange Trail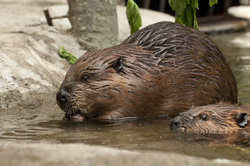 If you look around this spot, you'll see where North America's largest rodent, the beaver, has been chewing on the trees and bark. Strict herbivores, beavers live in family groups that include a mated pair, new cubs, and the older offspring. Known as "nature's architects," beavers build stick and mud dams that filter streams and can have a positive effect on the environment.
---