Rancocas Nature Center Trail System
Marker #21 - Red Trail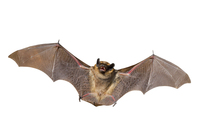 New Jersey is home to 9 species of bats. Most commonly seen in this area are the Little Brown Bat and Big Brown Bat. The bat box you see in the meadow was installed as part of an Eagle Scout project. As colonial breeders, bats use these boxes during the warmer months only. Bats are beneficial to humans because they can eat thousands of mosquitoes in just a single night.
---