Rancocas Nature Center Trail System
Marker #23 - Red Trail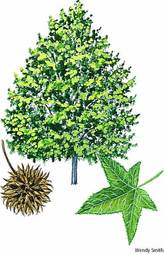 Common in this area, is a stand of early successional trees known as Sweet Gum (Liquidambar styraciflua). This native tree is easily identified by its five-pointed, star-shaped leaves, its hard, spiked seed pods, and by the unique winged pattern on its branches. In order to maintain our meadow, Sweet Gum saplings are removed annually and the meadow is mowed.
---