Rancocas Nature Center Trail System
Marker #24 - Red Trail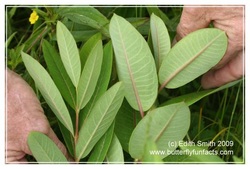 In the warmer months, this transitional area is filled with plants such as dogbane and milkweed that providing great habitat for dragonflies and butterflies. Dogbane has a narrower leaf and red stem, while Common Milkweed has a larger leaf and green stem. Many birds also frequent this area, and if you stand completely quiet for just a minute, you may be able to hear their calls.
---