Rancocas Nature Center Trail System
Marker #3 - Yellow Trail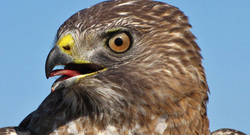 This edge habitat is a great place to look for the silhouettes of diurnal (active during the day)
raptors roosting in the tree tops. As home to many different species of rodents and other prey, this makes it the perfect place for a diurnal raptor, such as the Red-tailed Hawk, to hunt for its food.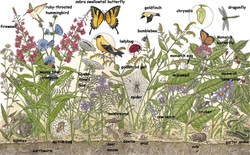 Meadows provide an example of the food chain in action─from producers such as grasses, flowers, shrubs, and trees to consumers such as insects, small animals, and deer.