Rancocas Nature Center Trail System
Marker #4 - Yellow Trail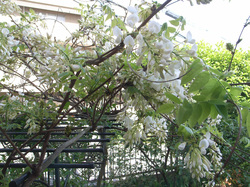 Within the densely wooded trails, a variety of herbaceous plants and vines can be found beneath the tree canopy. Competition for sunlight sends vines, such as wild grape and wisteria, climbing to the tops of trees. Wild grape, with its shaggy bark, is a food source for many Rancocas animals, while the wisteria, with its grayish, spotted bark, will strangle and eventually kill the trees and shrubs on which it grows, and is considered invasive plant.