Rancocas Nature Center Trail System
Marker #5 - Yellow Trail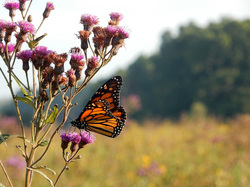 The small half-acre meadow, just off of the Yellow Trail, is home to approximately six honeybee hives. Honeybees play an important role in the pollination of flowers as well as fruits and vegetables.

The meadow is mowed annually to increase the variety of plants that will grow there. A diverse number of plant species will encourage a diversity of wildlife. Common milkweed, a large-leaf annual, grows in this meadow each year and is the host plant for Monarch butterfly eggs and larva (caterpillar). Also, its flowers are a nectar source for the Monarch adults, as well as for other butterflies and bees.