Rancocas Nature Center Trail System
Marker #6 - Yellow Trail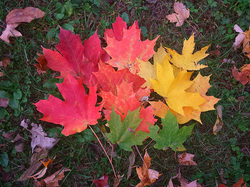 This area was previously the site of a nineteenth-century house. Nearby are two Sugar Maple trees. Their five-lobed leaves turn red, yellow, and crimson in the fall. The larger of the two is tapped each winter and its sap collected and boiled down to make maple syrup. It takes about forty gallons of sap to make one gallon of maple syrup, and the story of sugar maple production provides a focal point for the Nature Center's annual maple sugaring program in February.