Rancocas Nature Center Trail System
Marker #7 - Yellow Trail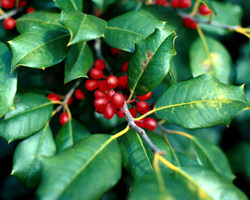 This stand of trees contains some of the oldest American Holly trees in Burlington County. Holly is a dioecious plant, meaning that it has separate male and female plants. It's only the female plants that produce berries, a reliable food source for over-wintering birds and other animals during a season when other food sources may not be available. Holly sprigs are widely known as the everlasting symbol of Christmas cheer.